Flexofem

"ECS" enclosed doctor blade chamber
Designed to provide liquid (inks, lacquers, water etc.) precise dosing into the cells of the transfer roller (anilox roller), and to seal them properly into a closed chamber during their application, these equipments improve the efficiency and productivity of flexographic applications and process quality, while being easy to operate.
Liquid or Ink circulation from its reservoir to the doctor blade chamber, and its following return in a closed loop cycle controlled by adequate pumping system (Liquid, ink pumps optional), provide better viscosity control of solvent usage and more consistent colour.
Easy draining of residual liquid from the chamber, reduces downtime for machine cleaning and job changes.

Easily applicable on Gravure Coating, Gravure Printing or Static Gravure Printing, flexo inking units it can be upgraded or retrofitted by use of supporting adaptors.
Depending on the application, these enclosed doctor blade chambers are supplied in 2 different
options:
- only the doctor blade applicator head on machines already equipped with a similar system (adaptation must be checked and engineered)
- the applicator head complete with the supporting structure and the regulation devices, for upgrading or retrofitting on machines using a different dosing system.
Value-added features of the "ECS" enclosed doctor blade system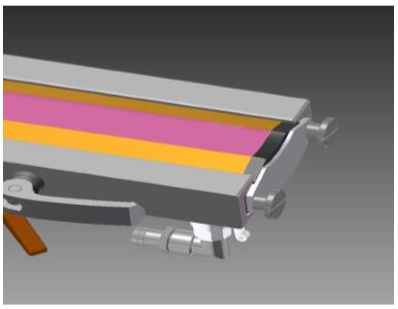 The easy application, combined with the extremely efficient and operator friendly use of this system, make the "ECS" doctor blade chamber one of the most advanced in the market.
Some remarkable features are
○ Easy and rapid blade replacement by a simple clamping device. The blade clamping is released easily by locking handles
○ Fast replacement of lateral seals without necessity of any tool
○ Special containing cavity designed to prevent liquid foaming as much as it can and reduce "ghost" effects during coating or printing operations. The unique shape of this cavity minimise ink residual deposits at jobs end cycles
○ Prevented bouncing and accidental pressure loses during coating or printing cycles by DRC system (directional rigidity control)
○ Cavity and inlet/outlet ports studied to grant proper products draining during the cleaning sequences
The system is available for solvent based and water based products, as well as to some special coating applications.
Benefits resulting from the use of "ECS" chambered doctor blade system
○ reduction of solvent evaporated emissions, by enclosing all the liquids into a closed circuit and eliminating any contact with the external environment
○ reduction of liquids usage because a smaller volume is in continuous circulation, thus eliminating the losses that occur frequently with the traditional liquid or ink delivery systems
○ reduction of liquid or ink or solvent loss by evaporation
○ better viscosity maintenance due to the reduction of solvent losses
○ process speed is no longer limited by coating system
○ prevented foaming by reduced liquids turbulence, and proper Gravure or anilox cell's refilling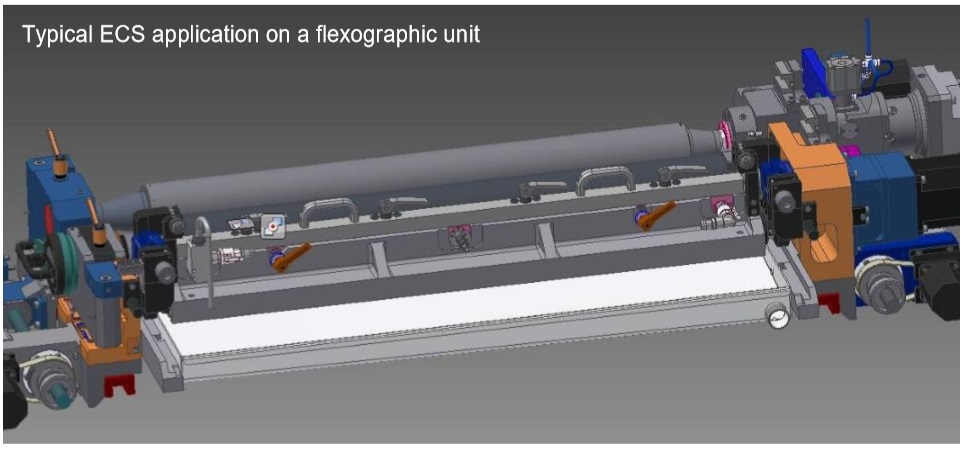 Extra benefits with "ECS" model
○ Consistent blade pressure on engraved roller and automatic blade wearing compensation
○ Fast seals and blade replacement with the easy locking system
○ Improved operator friendly approach
○ Improved coating and print quality and consistency
○ Reduced clean-up and make ready time
Extra benefits with the ultimate 2.0 model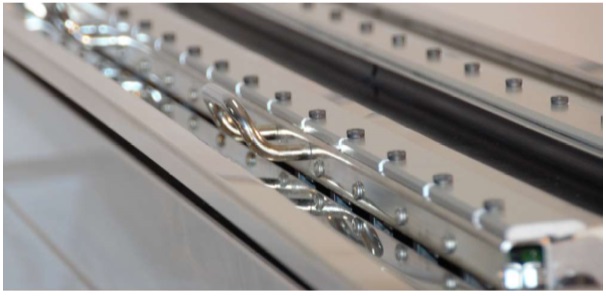 ○ Further reduction of weight from about 30%
○ Built in repellent material, no coating of Teflon or any similar. Repellent to water, solvent, acids. Long lasting, resistant to water based liquid or inks corrosion
○ Application using
- Water based inks, paints and primers
- Solvent based inks, paints and primers
- UV curable inks, paints and varnishes
- Tone changing aggressive inks for medical applications
○ Automatic high pressure blade clamping on pneumatic operated table. The table provides ideal support for maintenance and cleaning operations