Pactive Research & Development
PactiveKorea has been working advanced technology for special film and functional plastic sheet in Korean market and now present the right direction for research and development of new products of customers.
The R & D system, which is owned by the partners of PactiveKorea, is doing entire service for a process data collection, data management and operation training for producing repeatable end products that are absolutely necessary for final product production from the lab system or pilot to the production line.
We are helping to accumulate more advanced R & D technology improvements to our clients from various aspects of production technology through the experience of technical support and Unique Pilot Production from Pactive Korea's Global Technology partners.
In order to be faithful to the subject of Repeatable Production, which is the key factor of Pilot and Production, we will inform you that we will provide better service of Lab, Pilot and Production for new R & D and product production based on pilot system of Pactive Korea's partners.
Ultimately, by combining cutting-edge coating and extrusion technology to produce the best products, we are helping to develop and produce innovative products that can take down one page of the future as a result of getting ahead of Global Standard Product.
Pilot for polymer extrusion process
Screw, Pressure, Filtering, Optimum Heating & Cooling.
Special Film / Sheet [ Co-Extrusion Technology ]
Pilot for coating process
Gravure, Micro, Comma, Slot, 3 & 5 Roll, Spray and etc.
Pilot for lamination process
Press Lamination, Heat Lamination and Special Lamination
Pilot for surface treatment
Plasma, Flame, Corona and Chemical.
-Enercon's Message-
Research and Development - Advanced Testing
Enercon staffs a full-time research and development team. Our extensive testing facilities include capabilities for advanced surface measurements and analyses. Dyne level, contact angle, friction/peel testing, X-ray photoelectron spectroscopy (XPS), and time-of-flight secondary ion mass spectrometry (TOF-SIMS) are all part of our customer support package.
Pilot for dust removal process (web cleaning system)
Non-Contact or Contact with static elimination system.
-Hildebrand Message-
Are you experiencing dust contamination problems on your substrates?
Does static charge on your material bother you? We are ready for your challenge!
At our headquarters in St.Gallen we offer you the opportunity to test your materials such as film, foil, textile, paper etc. The machine is equipped with our highly efficient

Xstream

and

NANOtack

web cleaning system as well as the proven

iONstream Fusion

static neutralising equipment.
Either send us your material for test or attend in person. Our experts will oversee your material trial and find the ideal solution for your application.
Contact us for your individual lab trial. We are looking forward to the next challenge.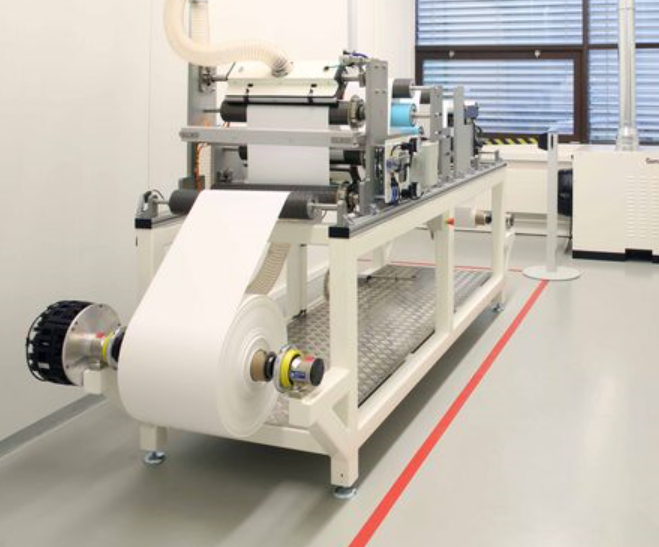 Research Area
-Cloeren Incorporated: Orange, Texas USA
-PSI Polymer-Systems, Inc: Conover, NC USA
-Enercon Industries Corporation: Menomonee Falls, WI USA
-Hildebrand Technology Gema Switzerland: St. Gallen, Switzerland
-Helios (Elio Cavagna srl): Galgagnano (Lodi) Italy
-Pactive Engineering: HOUSTON, TX USA
-American Kuhne: York, PA USA
-Rex Materials: Council Grove, KS USA
-FLEXOFEM S.r.l.: Verona, Italy